As I currently work from my home, here in Stevens Point, Wisconsin, I do not regularly have customers bring cameras to me.  If you live in Central Wisconsin, and would like to have me work on your camera, I am willing to meet people at my home, on an indevidual basis.

All others please feel free to send me an email with your request for a quote, and I will happily give you a free estimate.  I update the estimate when your camera arrives and inform you of its arrival.

I can also be talked into meeting people in Stevens Point at either a coffee shop or restaurant.

Ship you Camera to:

Mark Hansen

1101 Shaurette St.

Stevens Point, WI 54481-4550

Contact Mark Hansen

Please include your name, address, and email info in the Box!   

As of October 14th 2018, I am 8-10 weeks behind! So if I had your camera today, you would have it back in 8-10 weeks!  Please see the address below, I no longer live in Portland, Oregon, and now live in Central Wisconsin!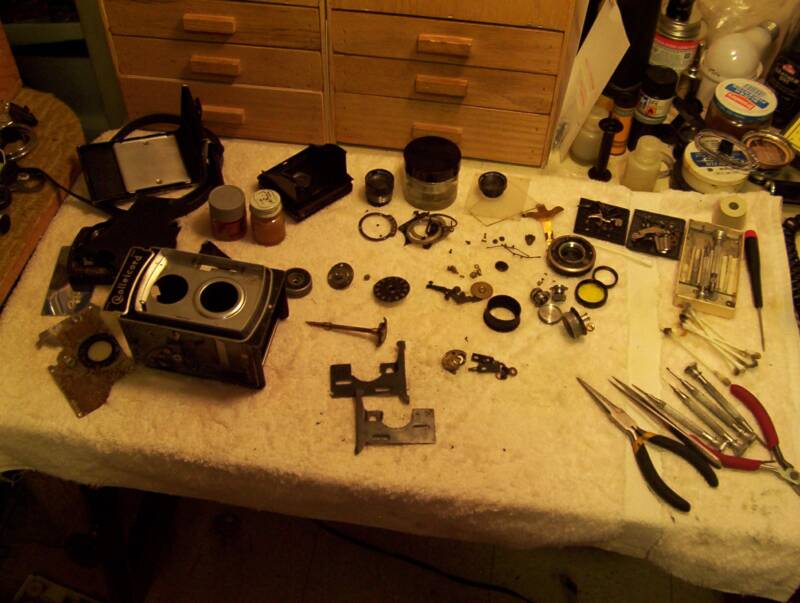 What is left of a Rolleicord I undergoing a complete service, check out the film advance of a Rolleicord V below.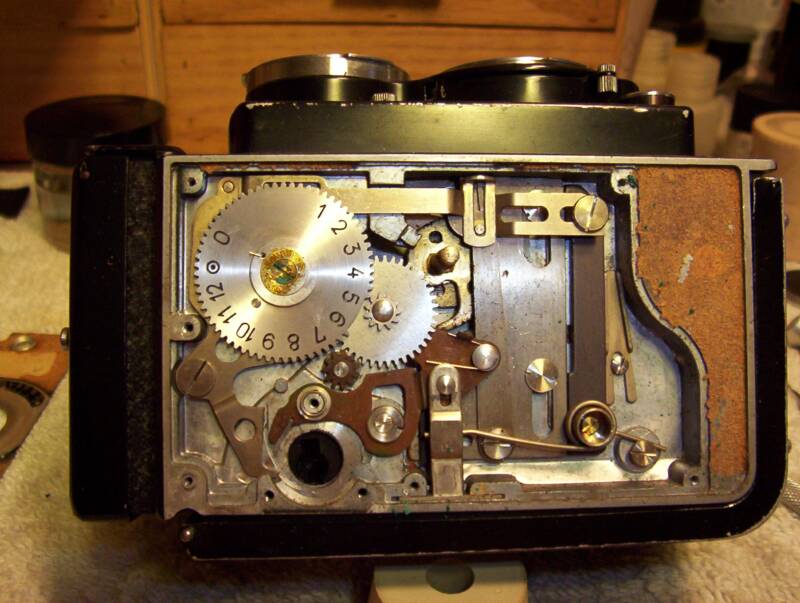 Quote Process:  Send me an email message, containing the make and model of your camera, and I will give you a ball-park quote, or ask for further information.  When your camera arrives, I'll send you an updated estimate, and await your approval.  If you don't know what the model of your camera

is...A picture is worth a thousand words!

Payment Methods and Process:


I accept Cash, Checks, Money Orders, and
PayPal.
PayPal customers an additional 5% will be added to cover my paypal fees.

Do to the lagging economy, and a rash of unpaid repairs; I will no longer be able to send cameras back without prior payment. 

I will send you a message, with the total for parts and labor, postage, and any PayPal fees, and when I have confirmed payment, I will mail your camera back.
What If I Cannot Fix Your Camera?


If your camera cannot be fixed or needs some service I cannot perform; I will at your request do one of the following:

1)  Ship the camera back to you taken apart with no labor charges (yes free other than shipping), along with a detailed description of why your camera cannot be fixed.

2)  Put the camera back together for a 50 dollar fee, and ship it back to you, along with the same detailed description of what I cannot fix. 

Please keep in mind on most cameras I cannot fix I have already lost several hours of labor, and the 50 dollar fee is only 100 minutes labor cost.  Having the camera back together will also increase your sale price and allow you to recover some of your investment. 
Warranty information and policies:


In general, I warranty cameras for 6 months.  This is restricted to the portion of the camera I worked on.  Only want to pay for a shutter service and then the transport starts acting up, it will not be covered.  Also, please keep in mind that I work on 60+ year old cameras, the return to full functionality may be be a process.  Unforeseen things just tend to come up, no matter how hard I try, to anticipate them.  Lastly, when a warranty issue does arise, please feel free to ship it back to me, I will happily work on it a second time.
Warrantee Transfer:


The warranty is owned only by the person listed in my records.  I will
not
transfer warranties to anyone for any reason. If you sell the camera on ebay, or some other site, then the new owner is on their own.  The only way warranty service will take place is if the new owner sends the camera to the old owner, and they return it to me.

Keeping this in mind, if you list in your advertisement, that I worked on your camera, I will not answer any questions from potential buyers.  I had business with you, and only you.  I do not share any (of your) personal information with anybody for any reason. 
Contact Me Before Shipping


Please note.  I have had several customers ship camera to me old address in Portland, and then after several weeks, contact me and ask, about my evaluation of their camera.  I have had to inform them I don't have their camera and that I don't know if the postal service will forward it.  This is very upsetting to everyone involved, and can be easily avoided, by contacting me before you ship the camera.

The Post Office will at some point stop forwarding my mail, and the new owners of my old home will start an ebay business selling your camera(s).  So, I cannot be responsible for camera lost in shipping, when sent to my old address, or to my new address for that matter.  You the shipper, need to put insurance on the package equal or greater to the value of the camera in question. 
Things to Know About shipping me a Camera:

1)  I need only your camera, not the case, strap, or lens cap.  These things have a high probability of being left off the camera when I ship it back, so to save me money and you frustration, please keep them with you.

2) Using only new packaging materials.  The best way to package a camera is to wrap it in bubble wrap, then tape it well.  Encase it in foam peanuts, leaving at least 3 inch's around the camera, to the box.  Next use enough peanuts that when the box is closed there is a slight pressure on the camera and it cannot rattle. 

3) Please include some sort of note regarding the nature of the repairs I am to undertake.  This must also include your name, address, phone number, and email address. I continue to get cameras that have no information with them. Please, I cannot stress this enough, I need your return address.  I am still getting about one in ten cameras with no contact information at all, and this is a real problem.  At one time I would print every quote, then match them to the camera when it arrived. Now however I quote 2-3x more than I repair, so this was/is a real waste of paper. 

4)  I can no longer be responsible for cameras shipped to me via UPS.  The last three shipped this way have been either damaged or lost.  USPS Priority Mail is  the only way to go, and works best for me.

5)  Before you ship your camera to me, you need to take a minute and asses your expectations for the camera, and what if any part I am going to play in these expectations.     I can make your camera as good as it will ever be.  I cannot make it new again, nor do I have a warehouse filled with brand new parts.  So in some cases cameras in otherwise good condition, cannot be repaired for lack of parts.  Also, I am an eternal optimist, so I go way beyond the call of duty with any camera, long before, I decide it cannot be fixed.  Or to put it differently, there ain't no throwing my arms up, and giving up, before all options are exhausted.

6)  When I contact you and tell you, I have completed the work to your camera, it is working as it should.  I get a fair bit of, what about the XYZ problem.  Well I fixed that, or I would not have invoiced you.  Also, and this requries a bit of faith...Your camera will be a good picture taker, if I have invoiced you, a repair charge.  If it was a bad picture taker, I would not have worked on it, and I would have shipped it back to you, with a minimum service charge.